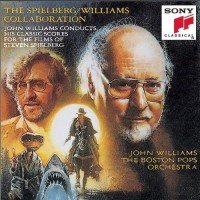 In part two of Cinematic Sound's five-part radio series celebrating John Williams' 80th birthday we will be presenting music spanning the years 1971-1975.  You will hear music from such films as JANE EYRE, THE COWBOYS, IMAGES, THE MAN WHO LOVED CAT DANCING, THE SUGARLAND EXPRESS. THE EIGER SANCTION and more.  Plus, we will be spinning a rare recording of "The Disaster Movie Suite" from an album called A CONCERT OF FILM MUSIC featuring the London Symphony Orchestra and conductor Henry Mancini released in 1976.  The suite contains selection from three scores – EARTHQUAKE, THE TOWERING INFERNO and JAWS.
Listen to Part III HERE.
PLAY IN POP-UP ▶ JOHN WILLIAMS 80th BIRTHDAY SPECIAL PART II
NOW PLAYING: JOHN WILLIAMS 80th BIRTHDAY SPECIAL | PART II
PLAYLIST • INTRO/JANE EYRE (0:00) • FIDDLER ON THE ROOF (15:51) • THE COWBOYS (17:31) • IMAGES (19:46) • THE MAN WHO LOVED CAT DANCING (27:54) • THE SUGARLAND EXPRESS (31:08) • THE POSEIDON ADVENTURE (36:05) • THE DISASTER MOVIE SUITE: EARTHQUAKE / THE TOWERING INFERNO / JAWS (38:18) • THE EIGER SANCTION (48:47)
About the Author
Erik is the host and producer of the soundtrack radio show 'Cinematic Sound.' The show is heard exclusively on-line and on-demand after spending its first ten years on terrestrial radio at C101.5 FM in Hamilton, Ontario. Erik has a broadcast journalism diploma from Mohawk College and has spent his professional career in the video production industry working as a producer, camera operator and editor.