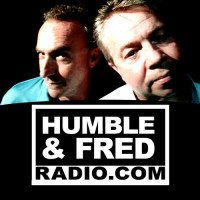 I joined the hilarious
Humble and Fred Radio Podcast
today to talk about film scores.  In 2006 Fred Patterson and I helped produce the extremely popular (and now defunct) beer.com podcast.  Last month, Fred contacted me and invited me to be a guest on his ridculously popular show along with his long time co-host "Humble" Howard Glassman.  Fred, Humble and the rest of the gang made me feel right at home and treated the subject matter of film music with a lot of respect.  It's always a pleasure to introduce people to film music, which is one of the main reasons why I started this program back in 1996, and hopefully with my appearance on this program I turned a few of Humble and Fred's listeners into new film score fans!
Check out the show by clicking HERE!
About the Author
Erik is the host and producer of the soundtrack radio show 'Cinematic Sound.' The show is heard exclusively on-line and on-demand after spending its first ten years on terrestrial radio at C101.5 FM in Hamilton, Ontario. Erik has a broadcast journalism diploma from Mohawk College and has spent his professional career in the video production industry working as a producer, camera operator and editor.