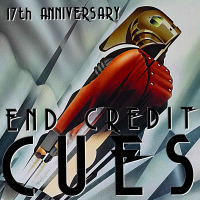 Cinematic Sound Radio turns 17 this month so as I do every year (except last year) I make a valiant attempt at coming up with a topic or theme that I have never before explored on the show. For instance, during our 14th anniversary I presented the
TOP 14 RE-RECORDINGS OF ALL TIME
.  For our 15th anniversary I presented a show dedicated to
15 MINUTE TRACKS.
This year I'm going to play for you some of my favourite end credit cues.  These are by no means the definitive best of the best but I think this show features a fine selection of end credit cues from the most iconic to the more obscure.
So, on this special three hour program you will hear music Alan Silvestri, James Horner, John Debney, John Williams, Joel McNeely, David Shire, David Arnold, Mark Snow and many others.
Special thanks to David Coscina who composed the NEW Cinematic Sound Radio's fanfare. We have retired the 20th Century Fox fanfare and will now be opening up all programs with Coscina's new theme. Check out more of his work HERE!
And a big special thanks goes out to film music journalist and historian Jon Burlingame for his invaluable assistance on this show.
PLAY IN POP-UP ▶ PART I | PART II | PART III
NOW PLAYING: END CREDIT CUES PART I
NOW PLAYING: END CREDIT CUES PART II
NOW PLAYING: END CREDIT CUES PART III
PLAYLIST
PART I • RASCALS AND ROBBERS (Horner) • VIRUS (McNeely) • TWISTER (Mancina/Van Halen) • STARGATE SG-1 (Goldsmith) • THE MUMMY RETURNS (Silvestri) • HOFFA (Newman) • TWILIGHT ZONE: THE MOVIE (Goldsmith) • NORTH AND SOUTH (Conti) • WILD THINGS (Clinton) • INTO THE ARMS OF STRANGERS (Holdridge) • WYATT EARP (Howard)
PART II • JAWS (Williams) • TOMBSTONE (Broughton) • CUTTHROAT ISLAND (Debney) • DAMN THE DEFIANT! (Parker) • PREDATOR 2 (Silvestri) • SQUANTO: A WARRIOR'S TALE (McNeely) • PEYTON PLACE (Waxman) • A FAR OFF PLACE (Horner) • RETURN TO OZ (Shire) • MOUSE HUNT (Silvestri)
PART III • SEAQUEST DSV (Debney) • INDEPENDENCE DAY (Arnold) • THE ROCKETEER (Horner) • BLACK BEAUTY (Elfman) • SNOW FALLING ON CEDARS (Howard) • THE MATRIX REVOLUTIONS (Davis/Juno Reactor) • SEVEN DAYS (Gilman) • PUSS IN BOOTS (Jackman) • CRAZY IN ALABAMA (Snow) • THE EMPIRE STRIKES BACK (Williams)
About the Author
Erik is the host and producer of the soundtrack radio show 'Cinematic Sound.' The show is heard exclusively on-line and on-demand after spending its first ten years on terrestrial radio at C101.5 FM in Hamilton, Ontario. Erik has a broadcast journalism diploma from Mohawk College and has spent his professional career in the video production industry working as a producer, camera operator and editor.